Archaeology of Sri Lanka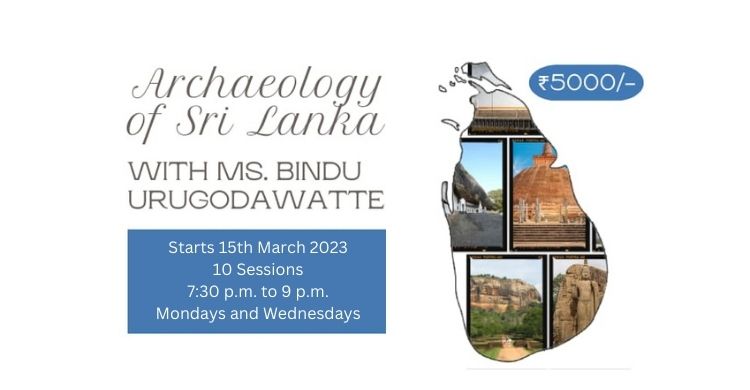 Summary
Number of Sessions: 10
Dates: 15th March to 17th April, 2023 (Mondays and Wednesdays)
Timings: 7:30 p.m. to 9 p.m.I.S.T
Fees: Rs. 5000/-
Resource Person: Dr. Bindu Urugodawatte
Medium: English
About the Course:
Sri Lanka has a rich heritage of archaeological remains right from prehistoric times. It has evidence of Paleolithic, Mesolithic and Iron Age. With the rise of Anuradhapura kingdom, Sri Lanka sensed a strong dynastic control. It was a seat of many Buddhist schools and supported the propogation of Buddhism into other countries in Southeast Asia.
Syllabus:
1. Introduction
2. Prehistory of Sri Lanka
3. Early History and Introduction of Buddhism
4. Early Historic Period
5. Middle Historic Period
6. Late Anuradhapura Period
7. Polonnaruwa Period
8. Transitional Period
9. Kandy Period
10. Colonial Period
With the sessions, take a deeper look at the Archaeology of Sri Lanka.
Registration Instructions
1. Please register on the website at the following link https://instucen.org/user-account
2. After Registering and creating your login credentials. Login and navigate to the Course page.
3. On course page Click on Get Course and then Go to cart.
4. You can Apply an coupon, if applicable here. Review you order and proceed to checkout. Enter Billing Information.
5. Place order and Pay on payment Gateway.
6. Course will now be available in your profile's 'Enrolled courses' tab.
1
Archaeology of Sri Lanka Lecture 1
2
Archaeology of Sri Lanka Lecture 2
3
Archaeology of Sri Lanka Lecture 3
4
Archaeology of Sri Lanka Lecture 4
5
Archaeology of Sri Lanka Lecture 5
6
Archaeology of Sri Lanka Lecture 6
7
Archaeology of Sri Lanka Lecture 7
8
Archaeology of Sri Lanka Lecture 8
9
Archaeology of Sri Lanka Lecture 9
10
Archaeology of Sri Lanka Lecture 10