Diploma In Archaeology 2023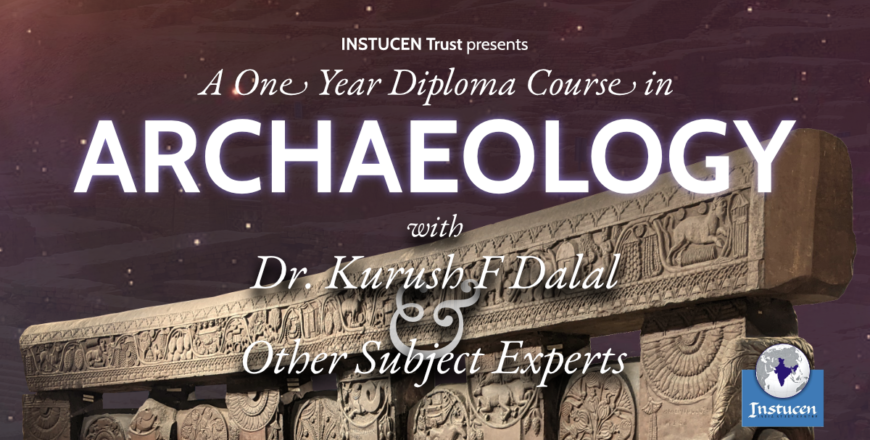 Summary
Dates: 21st January to 31st December, 2023 (every Saturday)
Timings: 7 p.m. to 9 p.m. I.S.T.
Fees: ₹ 15000/- (10% discount for Group of 5)
Principal Teacher: Dr. Kurush Dalal with various subject experts
Medium: English
About the course:
Archaeology is the study of material culture in the present left by humans of the past. It has more to do than just digging. It is a multi-disciplinary study which needs proper planning, inclination and thorough studies. This Diploma aims to give its participants an in-depth knowledge about this field with practical training and site tours.
Topics to be covered:
◾Introduction To Archeology And Archaeological Theories
◾Introduction To Indian Archaeology
◾Chronological and Calendrical Dating Systems
◾Sources of Indian Archaeology
◾Dating Methods
◾Explorations and Excavations
◾Geoarchaeology
◾Paleontology
◾Human Evolution
◾Prehistory (Paleolithic)
◾Prehistory (Mesolithic and Neolithic)
◾Indian Paleolithic
◾Indian Mesolithic
◾Indian Neolithic
◾Prehistoric Art
◾The Early and Mature Harappa
◾The Late and Post Harappa
◾The Chalcolithic Cultures of India (Non-Harappan)
◾Megalithic India
◾Second Urbanization (Part 1)
◾Second Urbanization (Part 2)
◾Early Historic Archaeology
◾South India and the Early Historic
◾Indian Ocean Littoral Archaeology
◾Early Medieval Archaeology
◾Numismtics
◾Epigraphy and Plaeography
◾Medieval Archaeology
◾Colonial Archaeology
◾Ancient Indian Art and Architecture
◾Early Medieval Art and Architecture
◾Medieval Art and Architecture
◾Colonial Indian Art
◾Colonial Indian Architecture
◾Archaeozoology
◾Paleobotany
◾Archaeochemistry
◾Conservation and Museology
◾Heritage Laws
◾Heritage Management
◾ArchaeoBroma
About the Resource Person:
Kurush F Dalal has a BA in Ancient Indian History and History from the University of Mumbai, an MA in Archaeology as well as a PhD on the Early Iron Age in Rajasthan, both from Deccan College, Pune University. Subsequently he shifted focus to the Early Medieval Period predominantly on the West Coast of India and excavated the sites of Sanjan, Chandore and Mandad. These excavations and the data recovered have had a strong impact on scholarship in the region. The recent Mandad excavations have revealed a brand new hitherto unknown Indo-Roman Port site with antecedents going back even further. Dr. Dalal also actively works on Memorial Stones and Ass-curse Stones in India and dabbles in Numismatics, Defence Archaeology, Architecture, Ethnoarchaeology and allied disciplines.
He is the Co-Director of the Salsette Explorations Project, a massive Urban Archaeology Project documenting the Archaeology of Mumbai since 2015, thus extending his interest from the Medieval into the Colonial Period. He has published over 35 papers and has read many more at National and International Seminars. He is a visiting lecturer at various Universities, Colleges, Schools and Government Institutions. He taught archaeology and allied subjects at the University of Mumbai for 10 years. Since October 2019 he is Consulting Editor with Live History India and continues to research Archaeology and Culinary Anthropology. He has recently blended his passion for food and archaeology into a research in Culinary Anthropology and Food Archaeology. He runs a very successful course called The Studying Food Workshop teaching food beyond the usual topics. He has made the most of the lockdown teaching via Instagram Lives and by teaching at various online platforms like Mythopia and INSTUCEN.
Other Details of the Course:
~ The course fees is non-refundable unless there is any cancellation on the part of the organisers.
~ There will be an exam/dissertation at the end of the course.
~ Participants who do not attempt the exam/dissertation will be given an attendance certificate. All others will get a graded Diploma Completion Certificate.
FAQs:
Q. What should one expect from this course ?
To study basic archaeology from experts in their respective fields.
Q. Is this diploma conducted in afiliation with some body or organisation? Will it be recognised elsewhere?
This is a diploma given by our institution, its recognition depends upon where, whom and what one does with it.
We are not affiliated to any restrictive body.
Q. What are the job prospects after gaining a Diploma in Archaeology?
This is a value addition, it arms you with all the basic tools you need to comprehend heritage from an archaeological perspective.
Q. Will there be regular assignments? Or any paper which we will be asked to write?
There is a mandatory short dissertation at the end of the course which you have to clear to be awarded the Diploma.
Q. Is it just a Diploma or a post graduate diploma?
This is not a PG Diploma as that would restrict the people who could do it.
Q. Who all are the course conductors besides, Dr. Dalal?
There are a number of other faculty, these include, Dr Abhijit Dandekar, Ms Riddhi Joshi, Dr Sanjay Eksambekae, Dr Sachin Joshi, Mr Mustansir Dalvi, Ms Smita Dalvi, Mr Anupam Sah and many more.
Q. When are the field trips planned for?
Field Trips are carried out in the Monsoons (2 day trip), on Sundays (within Mumbai) and a 5 day annual outstation trip to Marathwada during the Diwali Vacations.
Q. What are the course materials provided?
Live Lecture, lecture recordings, PDFs, Links, and Recommended reading are provided.
Happy learning!