DN Jha: Life of a Mind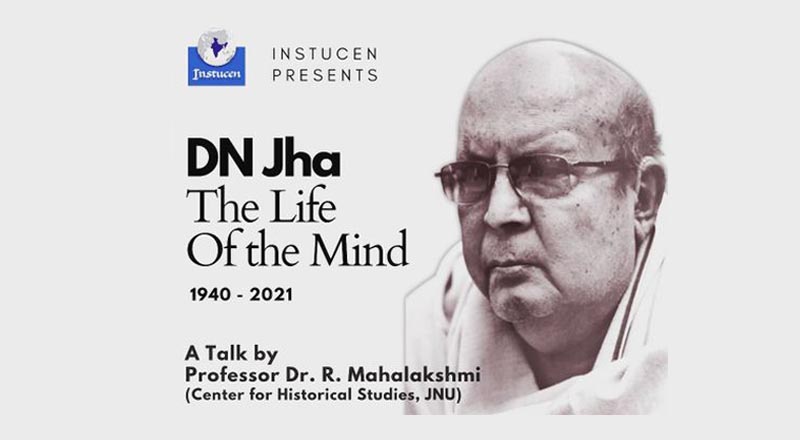 Prof. D.N. Jha, was a great doyen among Indian historians. He was one of the stalwarts who brought the debate of pluralism and rationality to the forefront. His famous works include "The Myth of The Holy Cow" and "Early India: A Concise History". He had a BA in History and an MA in Ancient and Medieval History. He was a professor at the Department of History, Delhi University. He had always been vocal about his thoughts on communal distortion.
INSTUCEN TRUST has arranged this commemorative lecture by Prof. Dr. R Mahalakshmi in the memory of this great scholar.
Professor Dr. R. Mahalakshmi
Prof. Dr. R. Mahalakshmi is Professor at the Center for Historical Studies, Jawaharlal Nehru University, New Delhi. Her research interests include the development of state, society, religion, and art in ancient and medieval India, Nepal and Sri Lanka. Her book The Making of the Goddess: Korravai-Durga in the Tamil Traditions (Penguin, 2011) was awarded the prize for the best book by a woman historian by the Indian History Congress in 2013. Her latest work is an edited collection of essays titled Art and History (Bloomsbury, 2020). She has also authored The Book of Lakshmi (Penguin, 2009) and Colonization: A Comparative Study of India and Korea, co-edited with Vyjayanti Raghavan (Academic Foundation Books, 2015), in addition to articles in peer-reviewed journals and books. She has been Co-Investigator in an International Project on 'India and Korea: A Comparative Study of Colonialism', funded by the AKS, Korea. She was Visiting Professor in 2018 at the Institut für Kunst- und Bildgeschichte, Humboldt University. She is the Secretary of the Indian History Congress for the period 2018-21. She has delivered the Presidential addresses of the Historiography Section of the Andhra Pradesh History Congress for 2018-19, and the Ancient Section of the Punjab History Conference (2019-20). She is currently working on two projects related to gender history in early India, and goddess traditions in South Asia. Her book on Dance in Early Tamilakam will be published later this year.
Productivity Hacks to Get More Done in 2018
— 28 February 2017
Facebook News Feed Eradicator (free chrome extension) Stay focused by removing your Facebook newsfeed and replacing it with an inspirational quote. Disable the tool anytime you want to see what friends are up to!
Hide My Inbox (free chrome extension for Gmail) Stay focused by hiding your inbox. Click "show your inbox" at a scheduled time and batch processs everything one go.
Habitica (free mobile + web app) Gamify your to do list. Treat your life like a game and earn gold goins for getting stuff done!