Fun With Chemistry: Dining On The Periodic Table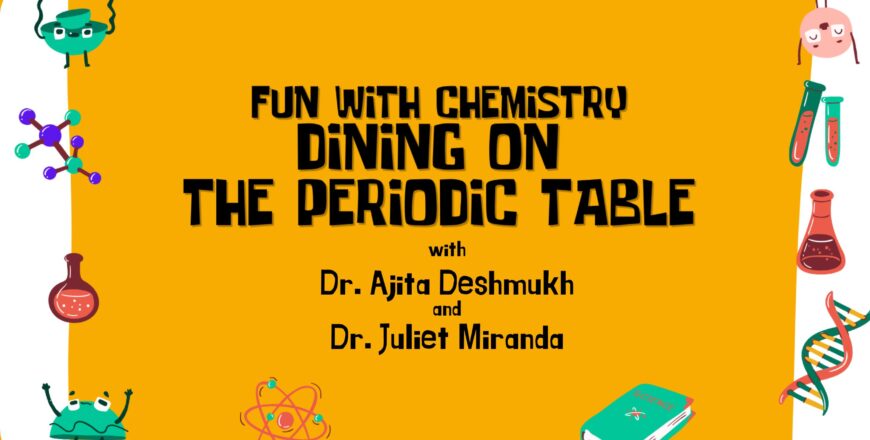 Summary
A two-session workshop for kids between the age of 8 and 15 years to understand the basic functioning of the a periodic table.
Instructor: Dr. Ajita Deshmukh and Dr. Juliet Miranda
Description:
1. Basic Elements of the Periodic Table
2. Gaming Session with the participants
About the Instructors:
Dr. Ajita Deshmkh is a passionate Chemistry educator, keen towards making quality chemistry education accessible and fun. She currently works as Assistant Professor (ICT) with the School of Education and Research, MIT-ADT University, Pune, India where she trains pre-service teachers. She has previously worked as Assistant Professor (ICT) at CIET, NCERT and as a training Coordinator at Teaching-Learning Centre, SNDT Women's University, Mumbai. She has conducted various sessions on ICT integrated pedagogy on SWAYAMPRABHA- the National Channel for Education, Universities and institutions- a few of them- SNDT, IIM Indore amongst others. She has been a Teaching Associate for a few courses on SWAYAM. She is also a course developer for OER4BW (Open Education for Better World), a UNESCO project by University of Nova Gorici, Slovenia for which she has developed and conducted two courses. Her areas of interest are Online education, particularly open education and specializes in Social Media in education.
Dr. Juliet Miranda is the Head of the Department, Department of Chemistry at the Royal College of Arts, Science and Commerce, Mira Road Thane. Dr. Miranda has teaching experience of 29 years at the Undergraduate level and 19 years of teaching experience at the Postgraduate level. She has 6 publications in National and International Journals. Dr. Miranda is the co-author of University Textbook of Chemistry – Concise Graduate Chemistry-IV and University Practical Book of Chemistry – Laboratory Experiments in Chemistry -I. She is extremely passionate about topics at the intersections of Chemistry and Humanities.
1
Elements of the Periodic Table
Be the first to add a review.
Please,
login
to leave a review