Learn the Tulu-Tigalari Script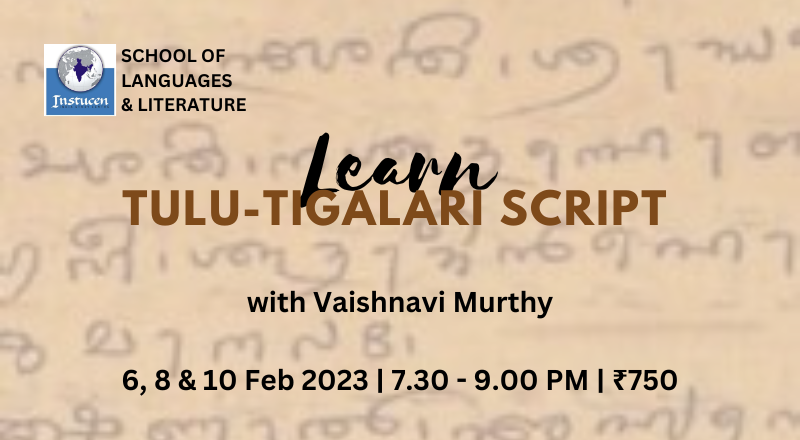 Summary
Number of Sessions: 3
Dates: 6th, 8th and 10th February 2023
Timings: 7:30 p.m. to 9 p.m. I.S.T
Fees: Rs. 750/-
Resource Person: Ms. Vaishnavi Murthy
Medium: English
About the Course:
Being an abugida script, Tigalari also known as Tulu script is one of the scripts of southern India. It evolved from the Brahmi and the Grantha scripts. It was used to write Tulu, Kannada, and Sanskrit languages. Many manuscripts ranging from Vedas to Upanishads, Dharmashashtras to Puranas, have been found with this script.
Learn one of the ancient scripts of India which is still thriving today.
About the Resource Person:
Vaishnavi Murthy is an independent designer and researcher based out of Bangalore. She did her undergraduation in Graphic design from the National Institute of Design, Ahmedabad. Later she went-on to do her masters in Typeface design from the university of Reading, UK. She received the Felix scholarship for this. Her area of interest is South Indian scripts. Both modern and archaic. She has worked on Kannada, Telugu and Malayalam fonts like Yaska, Akaya and Anek. Vaishnavi has been working on the Tulu-Tigalari script since 2004 and along with Vinodh Rajan has been successful to get this script included in the Unicode. Hopefully to see it released in September 2023. Apart from design, she also works as a dive master , working in pondicherry and the Andaman islands.
To Enrol
Register on the website at
User Account
Once logged in, you can click on Get Course to Enrol. For any queries you can write to us at instucentrust@gmail.com