Setting the Balance Straight: Revisiting Indian Mythology through the Women's Lenses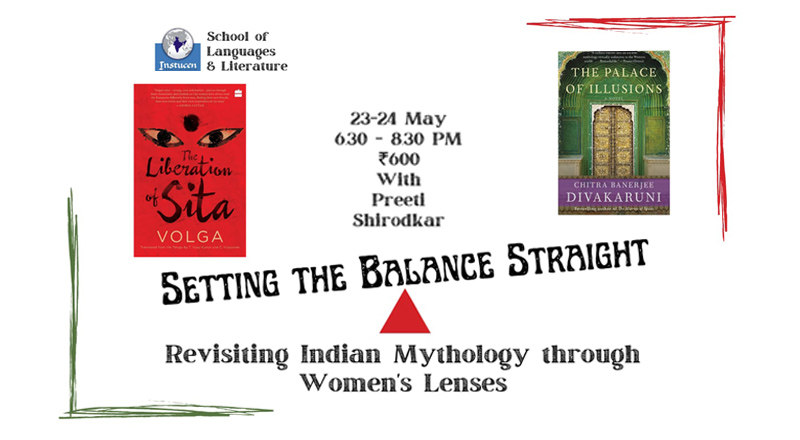 Summary
Number of Sessions: 2
Dates: 23rd & 24th May 2023
Timings: 6.30 p.m. to 8:30 p.m. I.S.T.
Fees: Rs. 600/-
Resource Person: Dr. Preeti Shirodkar
Medium: English
About the Course:
Myths are considered more than just stories. They are believed to be an integral part of culture, both reflecting and influencing it. It is thus important to re-read them to understand the underlying patterns and attitudes that may be influencing us even today. This two session course will look at Chitra Banerjee Divakaruni's Palace of Illusions and Volga's The Liberation of Sita as books that expose the challenges that lie embedded in Mahabharata and Ramayana from a feminist perspective.
About the Resource Person:
Dr. Preeti Shirodkar has Ph.D. in English Language and Literature from the University of Mumbai, Dr. Preeti Shirodkar, Associate Professor has over 28 years of experience in teaching English Literature, Communication and Soft Skills. She has conducted numerous training programmes and delivered talks for the academia and industry, served at varied undergraduate and postgraduate departments in Mumbai and has been to Germany and England as a Visiting Scholar. A Fellow of the Indian Institute of Advanced Studies, Shimla, she has also completed 2 Minor Research Projects for the University of Mumbai. She is a recipient of many awards and has written 7 books and has presented and published many articles and papers at national and international forums. She is passionate about teaching, mentoring, editing and creative and critical writing.
To Enrol
Register on the website at
User Account
Once logged in, you can click on Get Course to Enrol. For any queries you can write to us at instucentrust@gmail.com
1
Setting the Balance Straight Lecture 1
2
Setting the Balance Straight Lecture 2