Sri Lankan Culture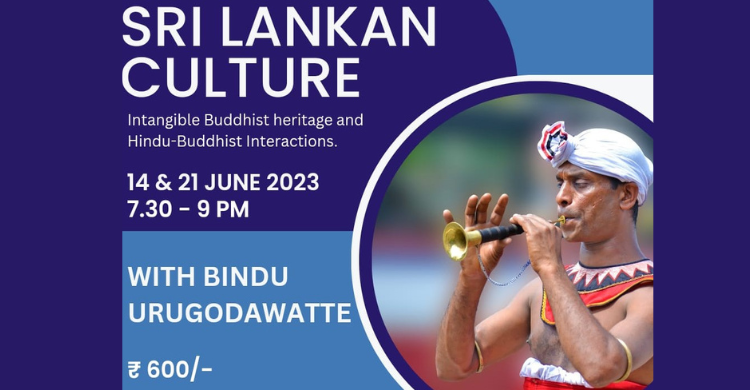 Summary
Number of Sessions: 2
Dates: 14th and 21st June 2023 
Timings: 7:30 p.m. to 9 p.m.I.S.T
Fees: Rs. 600/-
Resource Person: Bindu Urugodawatte 
Medium: English
About the Course:
Presenting a two-lecture series on the Culture of Sri Lanka by international faculty Ms. Bindu Urugodawatte, the well-known archaeologist from Colombo, Sri Lanka. On 14th June (Wednesday), she will cover the Intangible Buddhist Culture of Sri Lanka, and on 21st June (Wednesday) she will cover the Interaction of Buddhism and Hinduism in Sri Lanka through the case of Kataragama/Kathirgamam.
About the Resource Person:
Bindu Urugodawatte is an archaeologist by training with multi-disciplinary experience in Culture, Heritage Management, Environment & Climate Change. She has worked in the sectors of Human Rights, Disaster Management, and Event Management. She worked as a curator for various exhibitions. She organised, presented, and co-ordinated various seminars, conferences, and public lectures. She also has a background in editing and technical writing along with tourism, and impact assessments. Her objective always has been to find challenging work where she can use my multi-disciplinary experience and creative problem-solving skills to find solutions for sustainable cultural, environmental, and economic future of Sri Lanka.
Registration Instructions:
1. Please register on the website at the following link https://instucen.org/user-account
2. After registering and creating your login credentials. Log in and navigate to the Course page.
3. On the course page Click on Get Course and then Go to cart.
4. You can Apply a coupon, if applicable here. Review your order and proceed to checkout. Enter Billing Information.
5. Place an order and Pay on the Payment Gateway.
6. Course will now be available in your profile's 'Enrolled courses' tab.
2
Sri Lankan Culture 1 Q & A