World Rock Art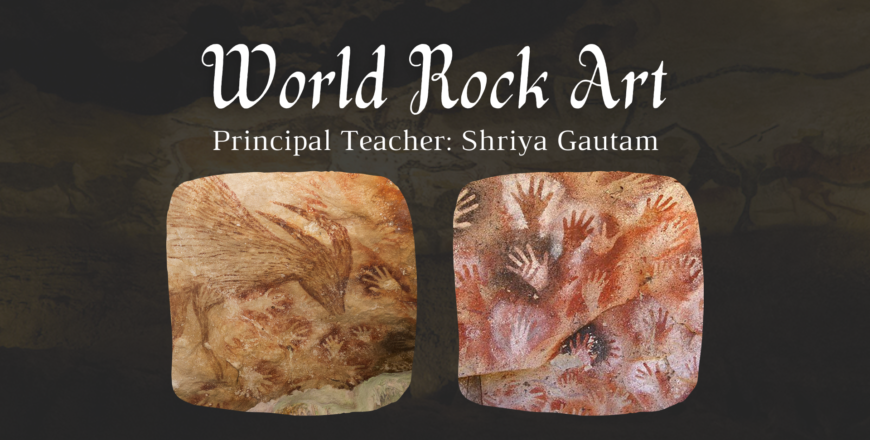 Summary
What exactly is Rock art? Is it a piece of art, a social message, a cultural niche, a piece of ulity, a way to mark sites having potential for hunting or something else?
Whatever it may be, today they serve as an important window to get into the mindset of ancient hominins.
These lectures aim to introduce the participants to the term rock art and the various pieces of rock art present across the globe.
Instructor: Ms. Shriya Gautam.
Medium: English
Description:
Lecture 1
● Basic definitions: Distinction between Rock Art and Petroglyphs
● Nature of Rock Art
● Scope of Rock Art Studies
Lecture 2
● Chronology of Rock Art and the problems in dating
● Rock Art of Africa
● The Shamanism Debate
Lecture 3
● The Rock Art of Europe
● Chauvet Caves
● The Cave of Altamira
Lecture 4
● The Aboriginal Rock Art of Australia and New Zealand
● An Overview of the Indian Rock Art
Lecture 5
● Bhimbetka Caves, Mukhadari Caves and the Rock Art in Central India
● Rock art of Eastern India (Orissa, Jharkhand, Bengal)
● Ethno-Rock Art and its Scope with respect to Indian Rock Shelters
Lecture 6
● Threats to Rock Art
● Conservation Methods
● Significance of Documenting Rock Art
About the Instructor:
Shriya Gautam has done her Masters's in English Literature and History. She went on to do her Master's in Archaeology from the University of Oxford where she majored in Palaeolithic Archaeology, Visual Cultures of Ancient Art, and Object Analysis. She is the Head and Chief Research Supervisor at Speaking Archaeologically. She holds object analysis workshops, seminars, and site visits in North India and presides over archaeological research projects of over 50 students. She is also the Chief Editor of the Speaking Archaeologically Research Journal.
2
Chronology of Rock Art and the problems in dating
5
The Rock Art of India and its Petrogylphs
Be the first to add a review.
Please,
login
to leave a review