Writing Free Verse with Rochelle Potkar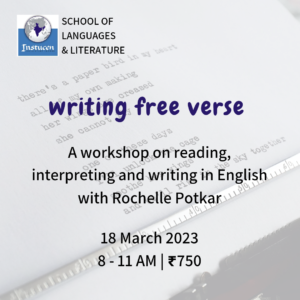 Poetry has been called (mostly by poets) as the voice of the soul. Where the structure of prose often fails, poetry succeeds — as healing, as protest, as joy, as disgust, as love and even as pure chamchagiri. Poetry finds and expresses the rhythms of the human condition. It asks for no fancy words, but for honesty with yourself.
This workshop by Rochelle Potkar will help you walk through the evolution of poetry, and especially free verse since the 20th century. It will help you find your signature voice and rhythm, and to interpret others' works in your own worldview.
This workshop is for those who want to write poetry, and even for those who want their prose to be more lively and lyrical. It will cover the arts of interpretation, self- critique and editing, concentrating on rhythm over rhyme, and on the techniques that transform sentences into poems.
Rochelle Potkar is the author of three books of poetry (Four Degrees of Separation, Paper Asylum and The Coordinates of Us; and two books of short stories (Bombay Hangovers and The Arithmetic of Breasts and Other Stories). She is an alumna of the Iowa International Writing Program and the Charles Wallace Writer's Fellowship and curated the US Consulate General's 10-day artist residency programme, Arcs of a Circle. She has read her works at various poetry festivals and is a recipient of the Norton Girault Literary Prize in Poetry 2018.
1
Writing Free Verse with Rochelle Potkar