Prof. Dr. Nilufer E Bharucha
Instructor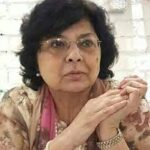 Instructor Bio
Prof. Dr. Nilufer E Bharucha is the Director, Mumbai Muenster Institute of Advanced Studies (MMIAS). She is the Faculty Associate Emeritus, South Asian Studies Institute, University of the Fraser Valley, B.C., Canada and Global Faculty, Fairleigh Dickinson University, NJ, USA. She has served on the jury of the Commonwealth Literature award and the Sahitya Akademi, Delhi Literature award in English. She has also been on the jury for the Rhodes scholarship. She has authored and edited 6 books in the areas of Postcolonial Indian Writing, Diasporic Indian Literature & Cinema and the Writing of the Parsis. One of her recent books is entitled Indian Diasporic Literature and Cinema. She ). She has contributed 3 modules on Indian Diasporic Literature and Cinema to the University Grants Commission's online Postgraduate E-pathshala.
Teacher Courses
Summary Principal Teacher – Prof. Dr. Nilufer Bharucha with Dr. Preeti Shirodkar Medium – English Syllabus 1]Introduction 2]Shadow Line...
The wounds of the partition are still unhealed…they have become to use an Urdu word - nasoor - that which cannot be healed. Literature has been wri...