Welcome to
INSTUCEN
India Study Centre Trust
About the Course Haiku is a form of observational poetry with origins in medieval Japan. In essence, haiku juxtaposes two momentary images to creat...
Presenting a 3-day series by INSTUCEN that you should take if you plan on visiting Hampi. This is not a Hampi guide, but aims to give you context m...
Instucen Announces
Destination Courses

Do you feel, "we could have explored more only if we knew what more to see" after visiting a monument?
Are you looking for more in a heritage site than what meets the eye?
INSTUCEN Destination courses are just for you. You will get to know all about the heritage sites through the lens of history, art, culture, archaeology, etc. These sessions will equip you with such information that it will help you to understand what lies within these heritage sites.
Stop 1: Hampi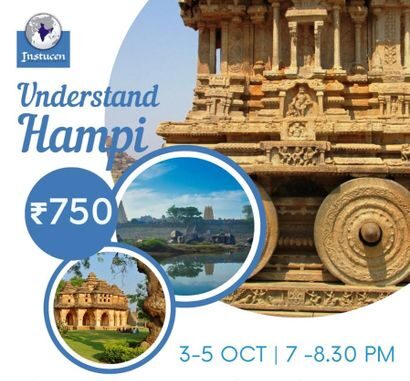 Join us in our upcoming live courses.
Live Zoom Sessions.
Live Questions with the Teacher.
Explore and Connect further on dedicated WhatsApp groups.
Courses for learners of all ages.
Art, Science, History.
Language, Literature and Culture.
Only requires a curious mind.
Connect with us on Social Media
Get the latest info on live courses with your favourite teachers