A Virtual Tour Of The Famous Dolls Collection At Mysuru, Curated By Ramson's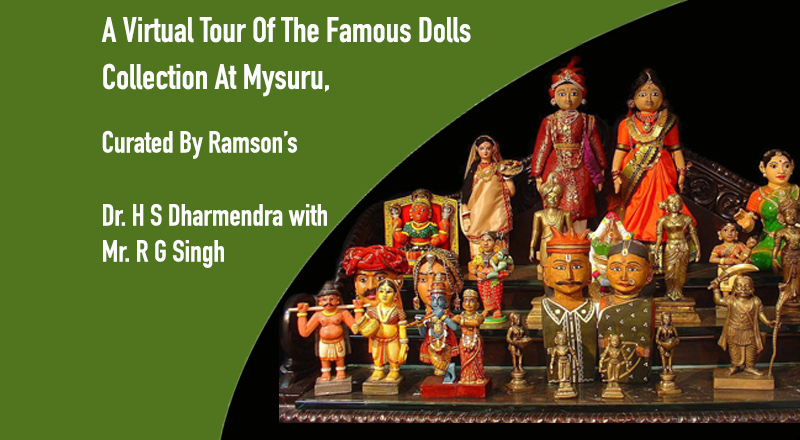 Summary
Instructor – Dr. H S Dharmendra with Mr. R G Singh
Medium – English
Description
Seeds of Bombe Mane
When Dr. H S Dharmendra first visited Ramsons store in 1997, he was awestruck with so much beauty under one roof. It was like Alice in the wonderland (of handicrafts). He had been to Mysore's Cauvery Emporium, the handicrafts marketing enterprise of Karnataka government, but it paled in front of the treasure trove that Ramsons is.
Ramsons has every possible Indian handicraft product from rosewood inlay furnitures, intricately carved sandalwood figurines, traditional board games, miniature paintings, Mysore style paintings, Tanjore paintings, brass figurines, stone sculptures, papier machie products, marble vases painted with gold, and so many more.
Still, he was not happy, he looked all over again, all counters, corners, shelves, and all three floors across which the store is spread. One thing was conspicuous by its absence – clay dolls.
So, he was pretty disappointed when he did not find any clay dolls at Ramsons except a few old damaged ones. When he asked Mr. R.G. Singh, a partner of the shop about it, he told him that earlier they were selling beautiful Kolhapur dolls and in fact the store had earned the epithet 'Gombe Angadi' (The Doll Store). Since past few years the demand for dolls had died down – the reason why the store did not sell dolls anymore – he added.
After his education, he honed his design skills at Ramsons and finally became its official designer in 2004. He renewed his request (which had graduated to a demand by now) to Mr. R G Singh about doll exhibition. Ramsons nurtures an art foundation, Ramsons Kala Pratishtana, which is working towards research, development and support of art and craft forms of the land. So his argument was that the doll-making forms a huge chunk of craft tradition and impressed upon the fact that the doll-making tradition of Mysore has already disappeared
In the year 2005, just a couple of weeks before Dasara, Mr. R G Singh went to Varanasi on a business trip. There he saw beautiful wooden dolls at a doll manufacturer's store. Next day morning he went to Ahilya Bai ghat for his customary dip in the Ganges. He took three dips and turned around towards the ghat. The ghat with its rows and rows of steps leading down to the river was teeming with people. He asked Dr H S Dhamendra to prepare a nice brochure and fax him a copy before getting it printed. The first thing was Dr H S Dharmendra did was to coin the name Bombe Mane for the exhibition. It means doll house or house of dolls.
Along with new dolls from across 10 states – Karnataka, Maharashtra, Kerala, Tamil Nadu, Andhra Pradesh, Uttar Pradesh, Rajasthan, Gujarat, West Bengal and Orissa – old dolls in the collection of Ramsons Kala Pratishtana, gifted by Smt. Kaladevi, were on display. Thus since past seven years Bombe Mane is gaining popularity not only in Mysore, but also within the state and without.
1
Virtual Tour Of The Famous Dolls Collection At Mysuru Special Lecture
Be the first to add a review.
Please,
login
to leave a review