Civilisations of the World (Series III): The American Civilisations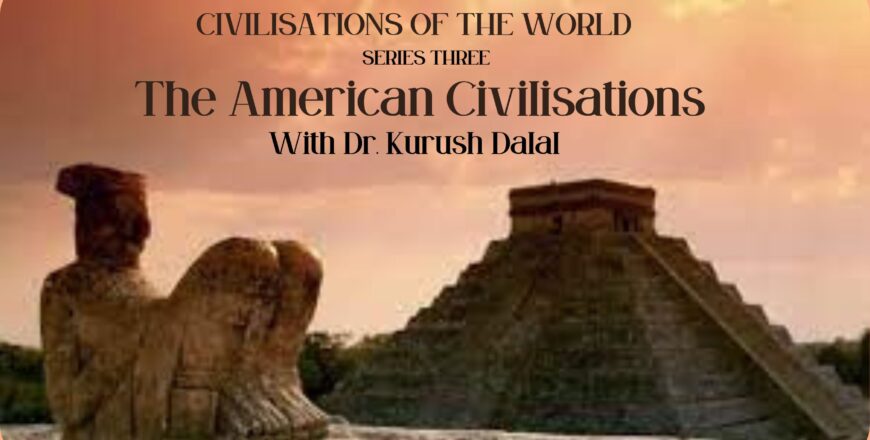 Summary
America has been hope to many civilisations in the past. Right from the Mayans to Incas, from Olmec to Aztecs, each civilisation left its mark on the continent. This course shall touch upon how these civilisations prevailed in the past.
Instructor: Dr. Kurush Dalal.
Medium: English
Description:
> An Introductory lecture on what is a civilisation
1. America: North and South
2. North America and the the Cultural Milieu: Cultures and Incipient Civilizations.
3. South and central America and the rise of Civilization (Early Cultures/Prehistory)
4. Caral Supe (Norte Chico) and Olmecs
5. The Mayans (Part 1)
6. The Mayans (Part 2)
7. Moche, Quimbaya, Tiwanaku
8. The Chimu and the Aymaras
9. Mixtecs, Zapotecs, Aztecs
10. Incas
About the Insturctor:
Dr. Kurush F Dalal
Director,
School of Archaeology, INSTUCEN.
Kurush F Dalal has a BA in Ancient Indian History and History from the University of Mumbai, an MA in Archaeology as well as a PhD on the Early Iron Age in Rajasthan, both from Deccan College, Pune University. Subsequently he shifted focus to the Early Medieval Period predominantly on the West Coast of India and excavated the sites of Sanjan, Chandore and Mandad. These excavations and the data recovered have had a strong impact on scholarship in the region. The recent Mandad excavations have revealed a brand new hitherto unknown Indo-Roman Port site with antecedents going back even further. Dr. Dalal also actively works on Memorial Stones and Ass-curse Stones in India and dabbles in Numismatics, Defence Archaeology, Architecture, Ethnoarchaeology and allied disciplines.
He is the Co-Director of the Salsette Explorations Project, a massive Urban Archaeology Project documenting the Archaeology of Mumbai since 2015, thus extending his interest from the Medieval into the Colonial Period. He has published over 35 papers and has read many more at National and International Seminars. He is a visiting lecturer at various Universities, Colleges, Schools and Government Institutions. He taught archaeology and allied subjects at the University of Mumbai for 10 years. He has recently blended his passion for food and archaeology into a research in Culinary Anthropology and Food Archaeology. He runs a very successful course called The Studying Food Workshop teaching food beyond the usual topics. He has made the most of the lockdown teaching via Instagram Lives and by teaching at various online platforms like Mythopia and INSTUCEN.
1
Introduction: What is a civilisation?
3
2. North America: Almost Civilised
4
3. South America: The Beginnings of Civilisations (Part 1)
5
4. South America: The Civilisations (Part 2)
6
5. Documentation of Maize
7
6. The Mayan Civilisation
Be the first to add a review.
Please,
login
to leave a review