EVOLUTIONARY BIOLOGY IN LAB AND BEYOND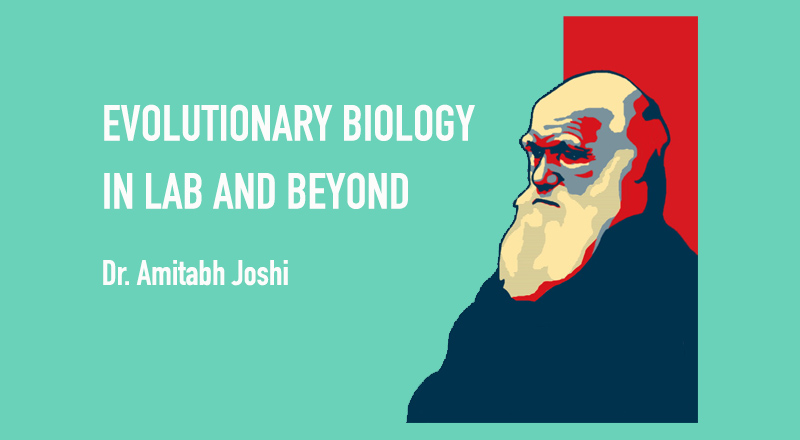 As his journey on HMS Beagle from Devonport began he started collecting, studying, exploring and investigating many plant species. This travelogue is known as The Voyage of the Beagle. Later on, he compiled all his research work into a book called 'On the Origin of Species' which changed the way of looking at the past. He was a naturalist, a geologist and a biologist. With his path breaking theories on 'natural selection' and 'branching pattern of evolution' he became one of the most revered scholars. To keep the Darwin spirit alive, Darwin day is celebrated throughout the globe on 12th February every year.
To remember this stalwart we have with us Prof Dr. Amitabh Joshi, Evolutionary And Organismal Biology Unit, Jawaharlal Nehru Centre for Advanced Scientific Research.
About the Speaker: Dr. Amitabh Joshi has a BSc degree in Botany and MSc degree in Genetics from Delhi University. He completed his PhD in Evolutionary Genetics from Washington State University, Pullman, and did post doctoral research at the University of California, Irvine. He is presently professor at JNCASR, Bengaluru, since 1996. He is a Fellow of the three science academies of India, and was Fellow at Institute of Advanced Studies, Berlin in 2001. He is a founding member and fellow of the Indian Society of Evolutionary Biologists. He recieved the Shanti Swaroop Bhatnagar Prize in Biological Sciences (2009) and Lakshmipat Singhania-IIM Lucknow National Young Leader in Science & Technology (2010). His research interests are life-history evolution, evolution of competitive ability, metapopulation dynamics, history and philosophy of biology, esp. evolution and genetics. He is also a poet in Urdu, English and Persian.
1
EVOLUTIONARY BIOLOGY IN LAB AND BEYOND Lecture 1
2
EVOLUTIONARY BIOLOGY IN LAB AND BEYOND Lecture 1