Haiku Mornings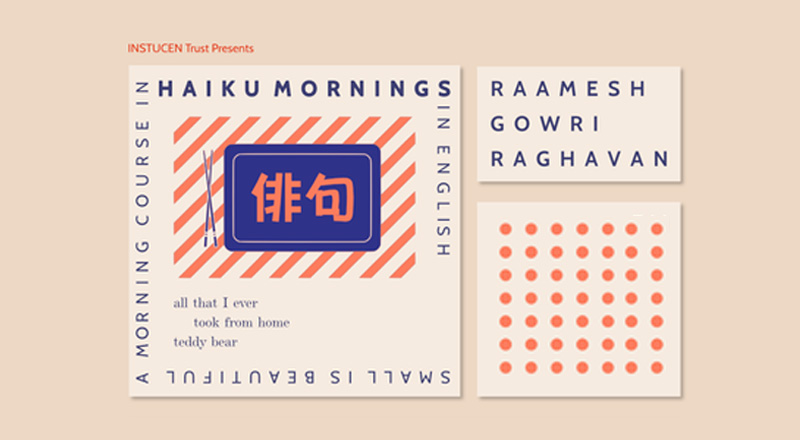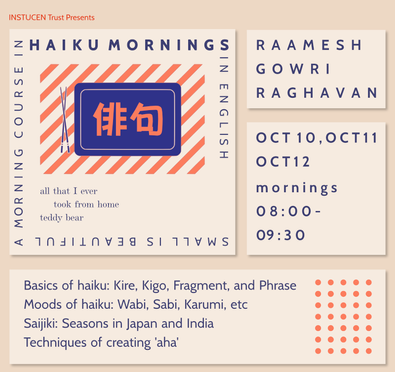 About the Course
Haiku is a form of observational poetry with origins in medieval Japan. In essence, haiku juxtaposes two momentary images to create new meanings. Adopted worldwide and short enough to write on a bus ticket, it's a form of literature accessible to all. This course will teach you the basic poetics and aesthetics of the form.
Summary
Number of Sessions: 3
Originally Recorded – 10th to 12th October, 2022
Timings: 8 a.m. to 9:30 am. I.S.T
Fees: Rs. 750/-
Resource Person: Mr. Raamesh Gowri Raghavan
Medium: English
About the Resource Person
Marketer by profession, scientist by training, epigraphist by choice and poet by night, Mr. Raamesh Gowri Raghavan, B.Sc., M.S., is director of Ioncure Tech Pvt Ltd, editor of the literary e-journal Narrow Road; and a member of the editorial board of Café Haiku. His literary publications include poems, short stories, haiku and haibun in several magazines and anthologies; while his academic publications span the ethnoarchaeology of the Bene Israel; ancient board games, the archaeology of fortifications, ancient Indian trade and Shaiva iconography. He has taught epigraphy, linguistics, archaeozoology, palaeobotany, evolutionary biology, Dravidian linguistics and haikai at University of Mumbai CEMS, Sathaye College, Wilson College, INSTUCEN Trust, Mumbai Research Centre of the Asiatic Society of Mumbai, and Speaking Archaeologically. He organized "Distilled Images", a national conference on haikai literature in India in 2014 with SIES College. With the INSTUCEN Trust in 2019, he organized the first National Conference on Ancient and Medieval Indian Games "Playing with the Past", sponsored by the Indian Council of Historical Research. He has also helped organize the Explorations in Maharashtra Workshops and Archaeology of Maharashtra Conferences from 2015 to 2019 at the Centre for Extra-Mural Studies, including publishing their Proceedings. Currently, he is coordinating the Diploma in Buddhist Studies at the India Study Centre (INSTUCEN) trust.
1
2