Introduction to Indian Classical Music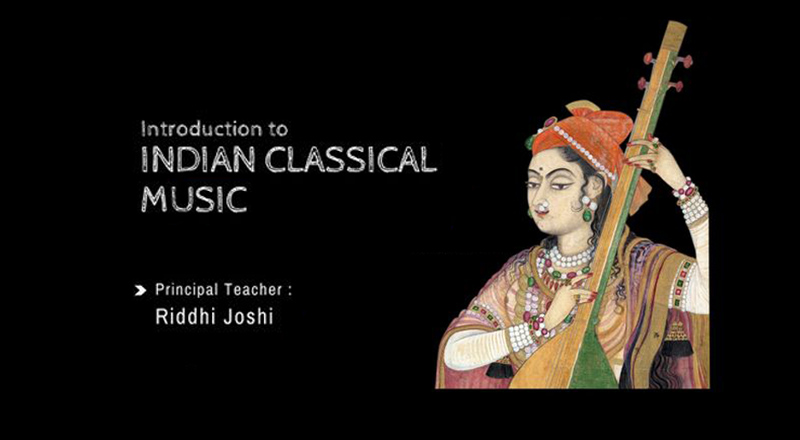 Summary
Originally recorded between 2nd November to 8th November 2020
Fees: ₹1500/-
Principal Teacher: Ms. Riddhi Joshi
Medium: English
Description
Get introduced to Indian classical music.
Syllabus
Lecture 1 : Introduction and Demonstration
Lecture 2 : Introduction to Indian Classical Music, Explanation of Basic Concepts, Timeline of Indian Music, Nibadh and Anibadh Gayaki
Lecture 3 : Detailed explanation of the concept of Raag with Demonstration of Aalap, Bol Aalaap, Taan and Bol Taan
Lecture 4 : Taal and Writing System with Demonstration of Tarana, Tirvat and Chaturang
Lecture 5 : Alankaar, Thumri, Tappa with Demonstration
Lecture 6 : Sargam Geet, Raag Sagar, Qawwali, Sufi, Light Music.
Lecture 7 : Instruments and some basics of Carnatic Music. The 72 melakars and some difference and similarity between Hindustani and Carnatic Styles
Registration Instructions
1. Please register on the website at the following link https://instucen.org/user-account
2. After Registering and creating your login credentials. Login and navigate to the Course page.
3. On course page Click on Get Course and then Go to cart.
4. You can Apply an coupon, if applicable here. Review you order and proceed to checkout. Enter Billing Information.
5. Place order and Pay on payment Gateway.
6. Course will now be available in your profile's 'Enrolled courses' tab.
1
INTRODUCTION TO INDIAN CLASSICAL MUSIC Lecture 1
2
INTRODUCTION TO INDIAN CLASSICAL MUSIC Lecture 7
3
INTRODUCTION TO INDIAN CLASSICAL MUSIC Lecture 2
4
INTRODUCTION TO INDIAN CLASSICAL MUSIC Lecture 3
5
INTRODUCTION TO INDIAN CLASSICAL MUSIC Lecture 4
6
INTRODUCTION TO INDIAN CLASSICAL MUSIC Lecture 5
7
INTRODUCTION TO INDIAN CLASSICAL MUSIC Lecture 6
8
INTRODUCTION TO INDIAN CLASSICAL MUSIC Lecture 7