Revisiting टिळक: Roots of Vedic People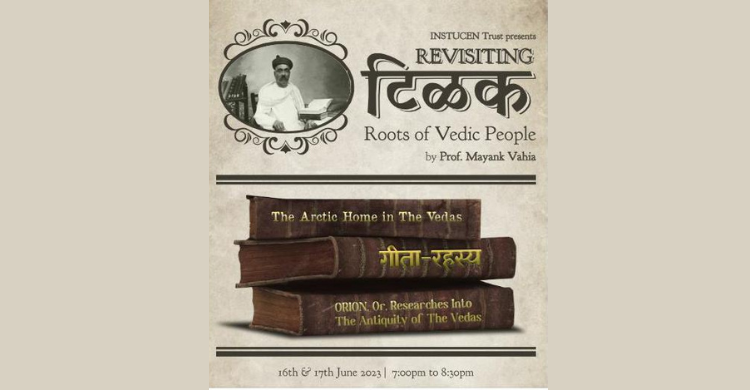 Summary
Number of Sessions: 2
Dates: 16th and 17th June, 2023 
Timings: 7 p.m. to 8:30 p.m. I.S.T
Fees: Rs. 500/-
Resource Person: Prof. Mayank Vahia  
Medium: English
About the course:
Lokmanya Balgangadhar Tilak was one of the prominent freedom fighters of India. He published many works in his lifetime. Based on astronomical calculations of Vedic hymns, he asserted that the Vedas belonged to the 4th millennium BCE and the people who wrote it belonged to the Arctic region.
Let us revisit these assertions in this session.
About the Resource Person:
Prof. Dr. Mayank Vahia is the Dean of The School of Mathematical Sciences, NMIMS, Vile Parle, which has introduced new ideas about mathematics education at the undergraduate level.
Prof. Vahia, who has a Ph.D. in Astronomy and Physics, retired from the Department of Astronomy and Astrophysics, Tata Institute of Fundamental Research (TIFR) in October 2018. At TIFR, he worked on space-based telescopes that were flown on NASA's Space Shuttle, one Russian satellite, and several Indian satellites. Later he pursued his interests in the history of astronomy and science in ancient civilisations.
Throughout his career, he was keen on student training and initiated the Astronomy Olympiad program in India which has not only created and cultivated interest in astronomy in young students but the Indian teams have performed very well in international events. After his retirement, he has taken up the responsibility of setting up an innovative undergraduate program in Mathematical Sciences at the Narsee Monjee Institute of Management Studies in Mumbai. For the past several years he has been working in the discipline of ArchaeoAstronomy and has done some path-breaking research in the field.
Registration Instructions:
1. Please register on the website at the following link https://instucen.org/user-account
2. After Registering and creating your login credentials. Log in and navigate to the Course page.
3. On the course page Click on Get Course and then Go to cart.
4. You can Apply a coupon, if applicable here. Review your order and proceed to checkout. Enter Billing Information.
5. Place an order and Pay on the Payment Gateway.
6. Course will now be available in your profile's 'Enrolled courses' tab.
1
Revisiting टिळक Lecture 1
2
Revisiting टिळक Lecture 2