The Partitioning of India: An Unhealed Wound and its Reflections in Literature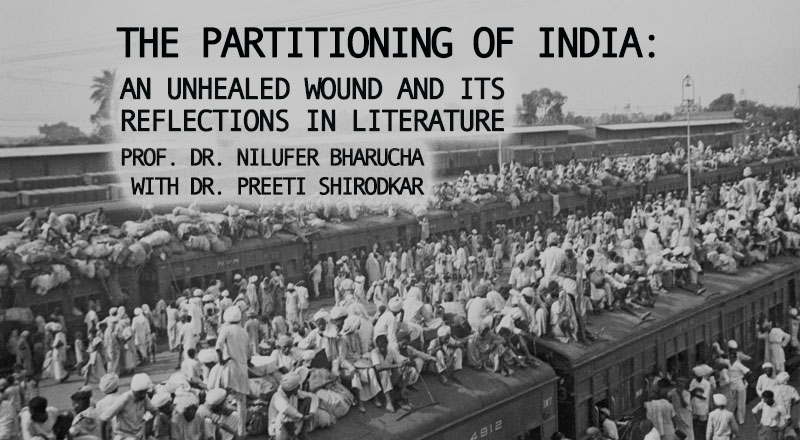 Summary
Principal Teacher – Prof. Dr. Nilufer Bharucha with Dr. Preeti Shirodkar
Medium – English
Syllabus
1]Introduction
2]Shadow Lines, Amitav Ghosh
3]Ice Candy Man, Bapsi Sidhwa
4]Train to Pakistan, Kushwant Singh
5]Short Stories, Saadat Hasan Manto & Summing Up
Description
The long nationalist struggle for Indian independence from British Colonial rule bore fruit after the end of World War II. Lord Mountbatten, a cousin of the British monarch, was sent to India to accomplish the Independence and division of India. The Mountbatten Plan announced on 3 June 1947 for making India free on 15 August 1947. On 18 July 1947 British Parliament passed the Indian Independence Act. This set off the frenzied rush for also dividing British India into the two new states of India and Pakistan. As Muslim League leaders were unwilling to accept being a minority in Hindu majority India, they had opted for a separate Muslim state – Pakistan – and the division of Punjab and Bengal provinces. The entire province of Sindh went to Pakistan. Not just Punjab and Bengal were divided between Pakistan and India but also other assets of British India: the Army, the Navy, the Air Force, the Civil Service and the Exchequer.
Sir Cyril Radcliffe's hastily drawn lines in the West and East of India, divided not just British India but two peoples and their common cultures, languages and lives. These 'Shadow Lines' immediately resulted in a loss of over one million lives and the displacement of over 12 million people, Hindus, Muslims and Sikhs on both sides of the new blood drenched borders.
Communal tensions died down temporarily by 1948 but Hindu-Muslim and Muslim/Sikh animosity continues to simmer. They have also resulted in bloody wars between India and Pakistan in October 1947, 1965, 1971 and Kargil in 1999.
Both India and Pakistan have had to face state-sponsored and religious-institution instigated terrorist acts for the last 30 years at least. These terror attacks have undermined the bilateral relations between India and Pakistan
The wounds of the partition are still unhealed…they have become to use an Urdu word – nasoor – that which cannot be healed.
Literature has been written in several Indian languages, including English, on the partition. Films in different languages have also been produced on this ever-oozing wound of the partitioning of India.
This course will focus on a few target texts and related films.
About the Speaker
Nilufer E Bharucha is Director of the Diasporic Constructions of Home and Belonging – Indian Diaspora Centre, Visiting Professor of Humanities, Centre for Excellence in Basic Sciences and Former Senior Professor and Chair, Department of English, all at the University of Mumbai. Professor Bharucha is Faculty Associate Emeritus, South Asian Studies Institute, University of the Fraser Valley, B.C., Canada and Global Faculty, Fairleigh Dickinson University, NJ, USA. She has served on the jury of the Commonwealth Literature award and the Sahitya Akademi, Delhi Literature award in English. She has also been on the jury for the Rhodes scholarship. She has over 60 papers published in national and international journals and anthologies. She has authored and edited 6 books in the areas of Postcolonial Indian Writing, Diasporic Indian Literature & Cinema and the Writing of the Parsis. One of her recent books is entitled Indian Diasporic Literature and Cinema. She is co-editor of the CoHaB IDC's Diaspora Studies Series. She has contributed 3 modules on Indian Diasporic Literature and Cinema to the University Grants Commission's online Postgraduate E-pathshala. She has published short-storiesand has done translations from the Urdu and Gujarati into English.
Preeti Shirodkar has a A Ph.D. in English Language and Literature from the University of Mumbai, is an, Associate Professor has over 28 years of experience in teaching English Literature, Communication and Soft Skills. She has conducted numerous training programmes and delivered talks for the academia and industry, served at varied undergraduate and postgraduate departments in Mumbai and has been to Germany and England as a Visiting Scholar. A Fellow of the Indian Institute of Advanced Studies, Shimla, she has also completed 2 Minor Research Projects for the University of Mumbai. She is a recipient of many awards and has written 7 books and has presented and published many articles and papers at national and international forums. She is passionate about teaching, mentoring, editing and creative and critical writing.
1
Partitioning of India: An Introduction
2
Partitioning of India: An Introduction
3
Partitioning of India :Shadow Lines - Amitav Ghosh
4
Partitioning of India :Shadow Lines - Amitav Ghosh
5
Partitioning of India :Ice Candy Man - Bapsi Sidhwa
6
Partitioning of India :Ice Candy Man - Bapsi Sidhwa
7
Partitioning of India :Train to Pakistan, Kushwant Singh
8
Partitioning of India :Train to Pakistan, Kushwant Singh
9
Partitioning of India :Short Stories, Saadat Hasan Manto & Summing Up
10
Partitioning of India :Short Stories, Saadat Hasan Manto & Summing Up