Understanding Hampi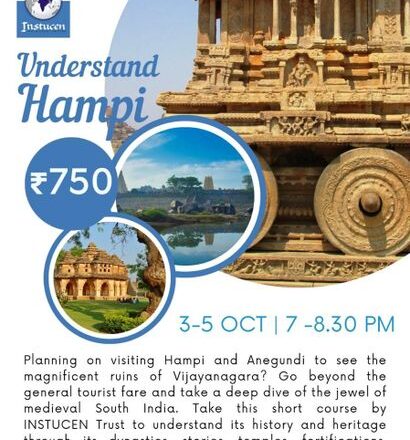 Presenting a 3-part series by INSTUCEN that you should take if you plan on visiting Hampi. This is not a Hampi guide, but aims to give you context more so than content, so you land at Hampi as a more than just a star-struck tourist at the mercy of guides, but someone who knows the lay of the land.
We will cover:
1. The place of Vijayanagara in history as an unabashedly politically Hindu state, and also a "war/frontier state".
2. The city's strategic geography that allowed it to survive multiple battles.
3. Its coast-to-coast trade networks spanning multiple communities.
4. How to imagine Vijayanagara in its time — which is the way any South Indian city functions, with its markets and public centres all clustered around the main temple. I will juxtapose Madurai, Mysuru and Vijayanagara.
5. And lastly, how the current social structure of the south has the lasting influence of Vijayanagara and its successor states (Mysore Wodeyars and Madurai Nayakars) even today.
Summary
Number of Sessions: 3
Originally Recorded: 3rd to 5th October, 2022
Resource Person: Mr. Raamesh Gowri Raghavan
Medium: English
About the Course
Do you feel, "we could have explored more only if we knew what more to see" after visiting a monument?
Are you looking for more in a heritage site than what meets the eye?
INSTUCEN Destination courses are just for you. You will get to know all about the heritage sites through the lens of history, art, culture, archaeology, etc. These sessions will equip you with such information that it will help you to understand what lies within these heritage sites.
Stop 1: Hampi
About the Resource Person
Marketer by profession, scientist by training, epigraphist by choice and poet by night, Mr. Raamesh Gowri Raghavan, B.Sc., M.S., is director of Ioncure Tech Pvt Ltd, editor of the literary e-journal Narrow Road; and a member of the editorial board of Café Haiku. His literary publications include poems, short stories, haiku and haibun in several magazines and anthologies; while his academic publications span the ethnoarchaeology of the Bene Israel; ancient board games, the archaeology of fortifications, ancient Indian trade and Shaiva iconography. He has taught epigraphy, linguistics, archaeozoology, palaeobotany, evolutionary biology, Dravidian linguistics and haikai at University of Mumbai CEMS, Sathaye College, Wilson College, INSTUCEN Trust, Mumbai Research Centre of the Asiatic Society of Mumbai, and Speaking Archaeologically. He organized "Distilled Images", a national conference on haikai literature in India in 2014 with SIES College. With the INSTUCEN Trust in 2019, he organized the first National Conference on Ancient and Medieval Indian Games "Playing with the Past", sponsored by the Indian Council of Historical Research. He has also helped organize the Explorations in Maharashtra Workshops and Archaeology of Maharashtra Conferences from 2015 to 2019 at the Centre for Extra-Mural Studies, including publishing their Proceedings. Currently, he is coordinating the Diploma in Buddhist Studies at the India Study Centre (INSTUCEN) trust.
1
Understanding Hampi - Day 1
2
Understanding Hampi - Day 2
3
Understanding Hampi - Day 3